Design Brief, Submission Guidelines & Rules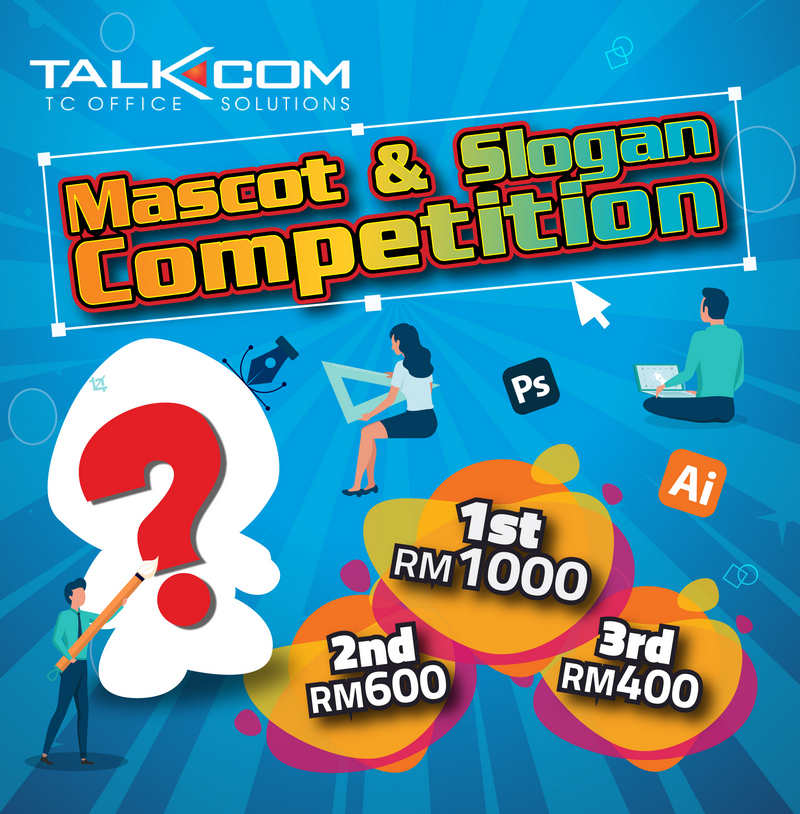 Prizes as following:
1st Prize - RM1,000 CASH
2nd Prize - RM600 CASH
3rd Prize - RM400 CASH


All Submission should include as per the following Terms & Conditions:
Proposed Slogan of Mascot, Full name of the participant, age, telephone number

Must be a Citizen of Malaysian

Open from Age 18 & Above


On a separate document do state the following:
Full name of participants, occupation & correspondence address,

A 250-word description of the mascot design stating that the inspiration behind the design & the slogan of mascot.

The contest is free of charge, the participant must follow and like Our Facebook, Instagram & Linkedin.
Facebook

https://www.facebook.com/tcossales/

Instagram

https://www.instagram.com/tcoffice/

All mascot design submission must adhere to the following requirements:
Coloured design placed on white background

Created as line art or other digital media format & must have front & back view of mascot

Submitted in high-resolution 300dpi in jpg or pdf format within 2MB file size

Design Must be related with TALKCOM Business ( Please refer our company webpage for further details - www.talkcom.my)



Contest Dateline? when will the contest end?
Deadline for submission of entries is on 31st Oct 2019.

How to submit?
Once complete for the Design, Please send your Artwork to talkcommarketing(at)gmail.com before the deadline mentioned.



Rules as below:
This contest is Open to Public Except for Talkcom staff & relatives.E
Open to the public based on Terms & Conditions stated and all designs concept must be original.

Entries must not be publicly displayed, uploaded to a public file sharing site or posted in online forums or message boards until after the winners have been announced. Failure to comply may result in disqualification.

The TALKCOM Mascot & Slogan Design Competition Deserves the right to modify the Mascot designs/entries and use as promotional/publicity materials in all media. The judges will select top THREE winners and results will be published on 30th Nov 2019 on the website:

www.talkcom.my

or our facebook

https://www.facebook.com/tcossales

The decision of the judges is final & all entries submitted will be the property of the organizer. Participants shall have no claim to the designs upon submission.

The Design could be the official MASCOT & Slogan for TC OFFICE SOLUTIONS SDN BHD.

Having more question? Please ask us we are happy to provide more info.
Please WhatsApp or call: 60124258322 - https://wa.me/60124258322

______________________________________________________________________________________________________________
提交指南与参赛规则:
1.所有提交内容应包括以下条款和条件:
*参赛者的吉祥物口号,参与者的全名,年龄,电话号码
*必须是马来西亚公民
*从18岁及以上开放参加

2.在提交文件中,请说明以下内容:
* 参与者的全名,职业和通信地址
*一个250字的吉祥物设计描述,说明设计背后的灵感和吉祥物的名称。

3.除了Talkcom职员和亲属之外,本次比赛对公众开放。

4.参与者是免费的,但必须跟随我们的Facebook, Instagram 与 Linkedin.

5.所有吉祥物设计提交必须符合以下要求:
* 在白色背景安置的色的设计
*设计的线条或其他设计格式,必须显示吉祥物的正面和背面视图
*以2MB文件大小以jpg或pdf格式提交高分辨率300dpi
*设计必须与talkcom业务有关(请参阅我们公司的网页了解更多详情)
*评审将选出前三名获奖者,结果将在2019年11月30日在以下网站上发布:www.talkcom.my或我们的Facebook https://www.facebook.com/tcossales
*评审团的决定为最终决定,所有参赛作品将归组织者所有。 参赛者一经提交,便无权要求其外观设计。